By Charlotte Coleman – Gender Studies & Law student at SOAS, in-house writer for Sheroes at Lon-art.
'Let us go then and make banners, and let them be beautiful', sang Mary Lowndes in the overture to Women's Sunday in 1908. This was the first grand-scale rally organised by the Women's Social and Political Union (WSPU), which saw the purple, white and green colours of suffrage flood across London, framing their political movement for social change. It was a mass meeting to put the fight for women's suffrage onto Britain's conscience, and entice the Liberal government to support votes for women.
Original ticket for 1908 Procession campaigning for the women's right to vote         Women marching to the House of Parliament to demand equal suffrage
This Sunday 10th June, in light of the centenary year of partial suffrage for women in Britain, Women's Sunday of 1908 will be commemorated with "PROCESSIONS". A mass participation artwork that will commence across 5 major UK cities, to bring together the spirit of Suffrage and the needs of contemporary women today. Processions represents an adaptation of the thoughts and designs of suffragettes a century ago, with messages on gender equality prevalent in twenty-first century Britain. Creativity was at the core of WSPU and NUWSS organising, and this weekend their acts of civil disobedience will be remembered as hundred's of handmade banners ascend across significant cornerstones of the UK. The suffragettes are inspirational activist heroines, the Sheroes of their time, and Processions will be a visual ode to their message of 'deeds not words' as we remember the importance of activism in the face of inequality today.
As 2018 marks 100 years since partial suffrage, recognition of the movement's 'hidden figures' has captured the focus of various nationwide campaigns. The Mayor of London, Sadiq Khan, launched the #BehindEveryGreatCity campaign to honour the women integral to our history, and highlight just why we must celebrate all women who have shaped our country. This campaign was notable in its recognition of activists other than the movement's main figureheads – the Pankhursts and Fawcetts – and showcased many lesser-known faces who joined the struggle for enfranchisement. Princess Sophia Duleep Singh, for example, who did not let her royal status prevent her from being an active member of the WSPU, and Lolita Roy, President of the London Indian Union Society and a central figure in the fight for Suffrage both in Britain and in India.
There are still many tales of suffrage that lay forgotten however. Tales of figures like sculptor Marjorie Dunlop, who slipped unnoticed into St. Stephen's Hall in the Houses of Parliament to petition the King in 1909 on matters of equal franchise and representation. She was later imprisoned. Or Lillian Lenton, a dancer from Leicester who became known in the media as a 'a fire-starting fugitive' and the suffragettes most elusive member. Infamously stating; 'whenever I was out of prison, my objective was to burn two buildings a week. The object was to create an impossible condition of affairs in the country, to prove it was impossible to govern without the consent of the governed'. Lenton made her stand, in the face of deaf ears direct action was the only way to coerce social and political recognition around votes for women.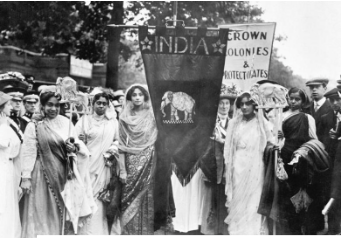 Lolita Roy, far left, at the Coronation Procession in 1911
Championing such 'little-known women warriors' is at the epicentre of our ongoing Sheroes campaign, which identifies 'history from below' as one of its founding principles. Unearthing 'herstories' of the past is behind the drive of our work, and as we collaborate with Artichoke and 14-18 NOW, the UK's arts programme for the First World War centenary, to present Processions – it is these stories that are the echo chamber of the campaign.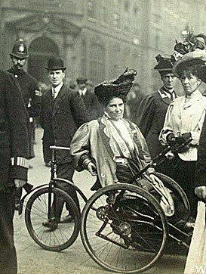 The forgotten history of women's suffrage lies in the stories of activists like Rosa May Billinghurst, whose frontline work rescuing young girls from prostitution led her in the direction of Suffragette activism. Billinghurst came to be known as 'the crippled suffragette' by the press and her peers, after a bout of childhood polio left her unable to walk. Yet, despite her disability, Billinghurst was a frequent figure in militant activities of the WSPU, where she was subject to police brutality that often led to a dismembering of her wheelchair. This deterrent only spurred Billinghurst on to prove her 'unwavering commitment to the cause', and she became the Secretary of the Greenwich Suffragettes in 1910.
Rosa May Billinghurst seen at a suffragette rally
Another reputable suffragette was Adelaide Knight, who relied on a crutch and stick for stability but did not let it impact her ability to partake in the fight for women's suffrage. Knight became to be valued as one of the most important figures in the East London Federation of Suffragettes (ELFS). Born out of late nineteenth-century labour rights movement, ELFS connected the women's struggle for equal franchise with the wider marginalisation of working-class women in British society. They lobbied for a standard living wage, decent housing, equal pay, and organised milk depots for the poor in the wake of WW1. ELFS represented the needs of the majority and were behind the opening of the first London branch of the WSPU in Canning Town. Knight was the secretary of this branch. Her front-line militancy, along with fellow Suffragettes Annie Kenney and Minnie Baldock, landed her in and out of prison – but it was these acts of devout allegiance to women's right to vote that landed the WSPU stark media coverage and enticed the attention of politicians.
Post-1907 the rhetoric of the WSPU changed to adopting a 'votes for ladies' approach, driven by 'a group of wealthy women', and abandoning links with labour rights. Though Sylvia Pankhurst made efforts to reconnect the WSPU with its ELFS roots, she could not change the undemocratic air that now surrounded the union. Consequentially, this shift lost the support of many suffragettes like Adelaide Knight, and the makeup of the WSPU visibly changed forever.
The voices of these Suffragettes remain harder to locate than those women with higher social status', so it is vital to share these stories when we can, to honour the sacrifices and huge contribution working-class women had to winning the vote. Such admiration forms the basis of an exhibition – 'ELFS' – just launched by the East End Women's Museum. To celebrate not only the existence and dedication of 'ELFS', but commemorate those hidden stories that were vital to what the WSPU became. Through this exhibition, the aim is to provide a collective space where women and girls across East London can share the stories that matter to them, contributing to an alternate historiography for the community and historians to enjoy together.
From princesses and politicians, to lawyers, academics and factory workers, the push for equal franchise was fought across all cornerstones of the UK. As we remember hidden herstories of the Suffrage movement and highlight importance of rethinking spaces and (re)writing history, the power of historiography becomes clear: not only to challenge mainstream narratives, but to hold history to account. In this centenary of Suffrage, there is still much to reconcile, much to reflect upon and many to bear gratitude to – but the momentum for equality is ever greater. And, with remembrance of Sheroes like Rosa Billinghurst, Emily Davies and Adelaide Knight, the spirit of suffrage will keep our fight for what is right alive.
Join us and our beautiful banners on Sunday June 10 as part of London #processions2018!
SaveSave
SaveSave
SaveSave
SaveSaveSaveSave
SaveSave
SaveSave
SaveSave
SaveSave
SaveSave
SaveSave