'WE ARE ON THE CUTTING EDGE.'
During our stay in Oaxaca, Mexico, we were lucky enough to meet the Ruiz sisters. Five extremely enterprising, independent and hard-working women, who are part of Atzompa's pottery community – one of the main pottery villages in Oaxaca. However, the way they were raised and their very particular understanding of the world and gender make them super special. They opened the doors of their house as well as their hearts to us. So here you have some of the fabulous conversations we shared with them.
Lon-art: Can you tell us a little bit about who you are and what you do?
Mari Ruiz: We are team of enterprising women who do pottery. At the moment, we could say we are opening up to the world. People are starting to know us and our work. And hopefully we will go far.
Rufina Ruiz: For us, to be constantly learning is key to our success. Consequently, the doors to our house, to our workshop, are always open. Not only for the open public, but also for everyone's knowledge, brains and hearts.
L: Atzompa is one of the most active pottery villages in Oaxaca. What do you think makes you stand out from the crowd?
RR: We currently are on the cutting edge because of what we do. We have a very innovative project – an intangible dream that has come true.
MR: We are the only ones making pieces in several colours, other than Atzompa's traditional green. In this small workshops of ours, we are the first ones who have implemented this change.
L: And would you say this has translated into a higher amount of sales or an increase in visibility?
MR: After many years of hard work, we are now seeing the results. Trial and error, trial and error; now positively being reflected on our sales.
RR: Even though there always are up and downs, it is true that improved products mean better sales. While we never lose sight of our tradition, we are now fully immersed in this innovative project. On a scale of 1 to 100, we would be on a 75 at the moment.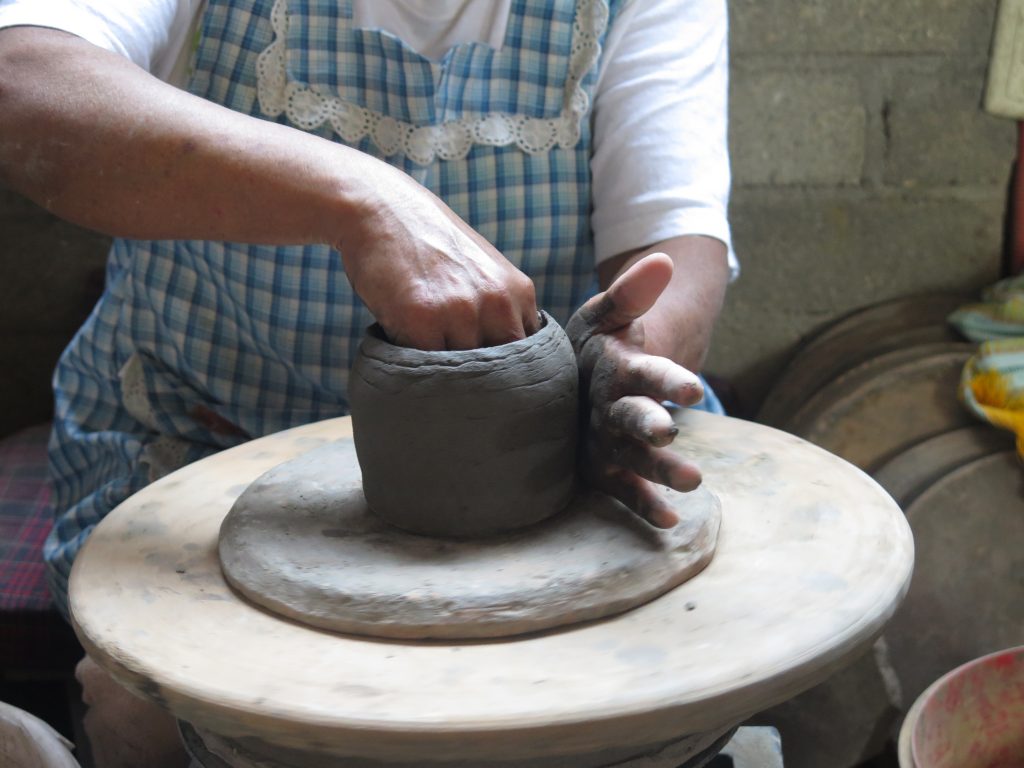 L: Is there any woman among the teachers you have had?
All: Our mother.
RR: She taught us everything. She taught us to love, to feel and to share. Along with pottery, these are the most important lessons we learnt from her.
I started doing pottery when I was a bit older and she made me fall in love with this craft – little by little. At the beginning, my pieces were wonky, so she would take them and fix them with all her love. Sometimes she would show pieces to her customers and they would reject some because they were faulty, as she was always very precise. This made me realised I had to learn a lot in order to be successful.
MR: In my case, my mom would tell us: 'come, my darlings, let's play. We are going to learn by playing'. Ceci, La China and I – the eldest sisters – started making small plates and pots for our birds when we were between 4 and 6. And when we turned 15 we started to work and sell our pieces. We learnt from our mother by playing, which made the learning process completely different. Now, since Rufina and Leo go to different courses, we learn new techniques from them. This way, we are constantly learning from each other.
L: You are five sisters, all women in the house and working – which is what we adore about this house! Do you ever miss the presence of a man?
MR: Never. Since we were little, our brothers would tell us: you come with us and learn what we do, as we might not always be here with you. Our family is very special. And even though most of the siblings are men, they got married and started their own families. So here we are all the women!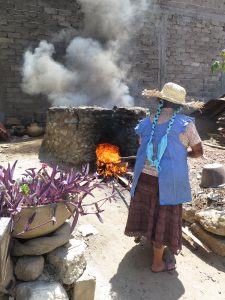 L: When it comes to pottery, while it has always been a craft that belongs to women, our society still is dominated by men. Have you ever had any problems because of you are all women at the workshop?
RR: Men always think that women are not strong enough to have power, that we should be in the house and we were born for only three things: to be housewives, take care of our husbands and be submissive. Once I was at a conference and a man was telling that, even though I kept saying that Oaxaca was a women-dominated city – as a higher percentage of its population are women -, men had the power. So I asked him: 'Did a man give birth to you? No, a woman did. So who do you think is stronger, a man or a woman? You need a woman to be born. Luckily enough, biology made you a man.'
Chauvinists will always exist. We just need to join forces and resist.
MR: Together we will resist. We have a rather liberal way of thinking, which makes us very different from the other female potters, who are controlled by a man. We cannot stand that, we can do it on our own. Our limit is the sky.
RR: This is what make the Ruiz sisters different from the rest. We have no limits. If you look around, women always have to obey to either their husbands or fathers-in-law. In our house, even though most of our siblings are men, we are completely independent. Our mom used to tell us: 'you have to find a husband who loves you; not one who bits you'. We touch wood. That's the difference.
The question is what it is you want to do as a woman. What opportunities you have and what decisions you make. Your decisions are yours. It doesn't matter if you make a mistake – it is part of the learning process.
L: To wrap up, we would like you to let us the story of the mine, which – we believe – perfectly depicts your character and your way of approaching life.
RR: Before, people used to say that women could not go to the mines, or they would turn into stone. However, we, the Ruiz sister – who are well stubborn – decided at some point that we had to go to the mines to collect clay with our brothers and learn how they did it. We went, we got our clay and nothing happened. We didn't turn into stones and learn how to extract clay. Five women. And here we are. Since then, more women have started going to the mine.
Men thought that it was crazy that some women were going to the mines. And the cowmen in the area would ask us: 'are you really going to extract clay?' It was nothing but a myth to keep women away from the mines. But here we are. And we showed everyone that women can also go to the mines and get their own clay.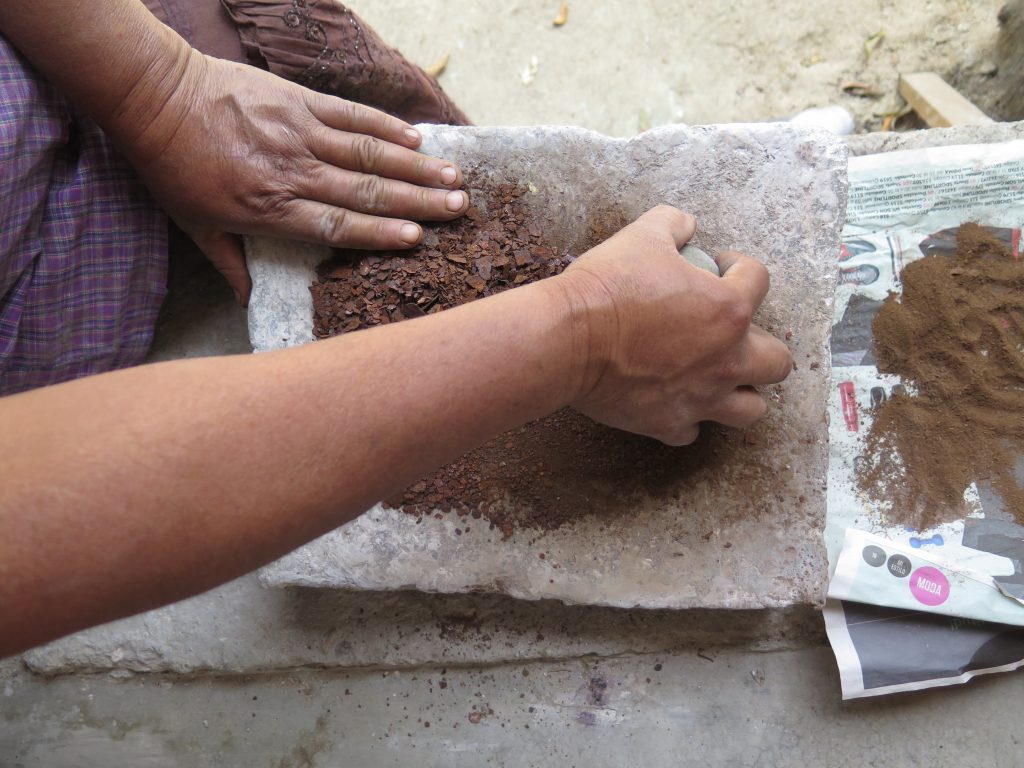 SaveSave
SaveSaveSaveSaveSaveSaveSaveSave
SaveSave
SaveSave
SaveSave
SaveSave
SaveSave
SaveSave
SaveSave
SaveSave
SaveSave